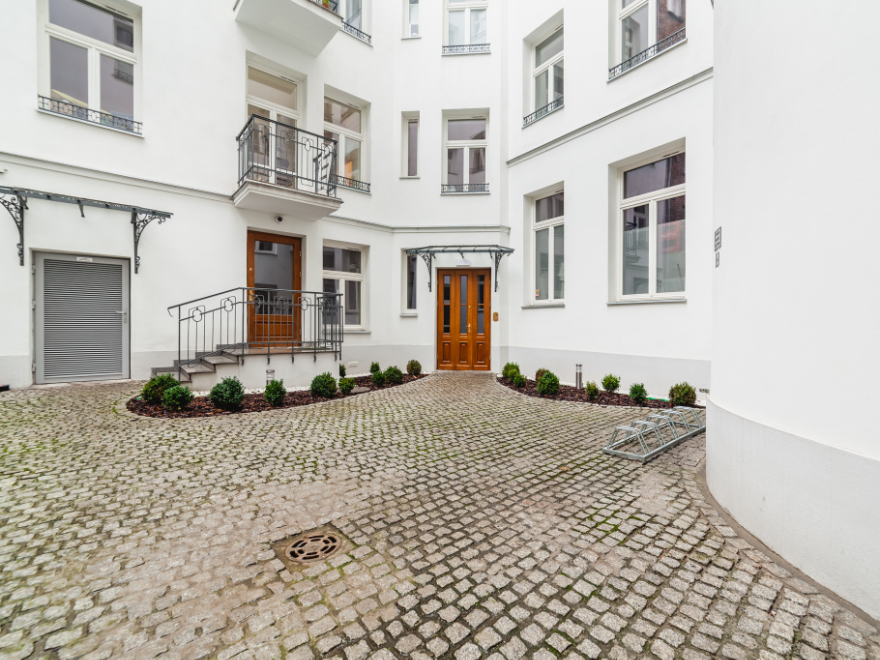 Jagielońska 22 – an early modernist tenement house after revitalization
Location: Warsaw, Praga Północ, ul. Jagiellońska 22
Distance to the center: 9 minutes (5 km)
Realization: Fenix Group
Year of commissioning: 1912
The former tenement house of Chaim Herkowicz and Perlia Grinber from 1912 is located in a part of old Praga, next to Targowa and Aleja Solidarności streets.
This beautiful tenement house was partially destroyed during World War II and later rebuilt around 1950. An interesting fact, both on the inside and the outside of the building are some well-preserved elements of its former glory. The remains that can be seen today are the original details of the staircase, two-color ceramics, as well as a gate passage, e.g. door woodwork with carved decorations.
In February 2010, the Fenix Group purchased the property from its legitimate owners and restored the place to its former identity.
Currently, the tenement house with 5 floors is a building with a total area of almost 3,000 sq m. square meters, 2/3 of which are available for use. This part is intended for 28 apartments (29-97 m2) and 3 commercial and service premises. The apartment building has modern elevators, wooden windows with decorative elements that have been recreated to look like the original ones, and doors with fittings similar to the original ones. The height of the apartments' rooms is 2.90 – 3.50 m.
Near the tenement house, there are many places that active residents of Warsaw can take advantage of, such as the Praski Park, the Warsaw Zoo, the Prawy Brzeg Sports and Recreation Center, and the sandy beaches of the Vistula River. Just around the corner of the tenement house, for those who like contact with art, is a modern Kino Praha cinema and the Baj Theater, and the drive to the Powszechny Theater and the National Stadium takes a few minutes. The great advantage of living in a tenement house is public transport – buses, trams, and the Dw. Wileński metro station.
Living in a tenement house apartment is completely different than living in a modern apartment building, in a tenement house on Jagielońska Street you can find apartments for rent, and from time to time there are also apartments for sale.
Jagielońska 22 Warszawa – inwestycja Fenix Group (urbanity.pl)