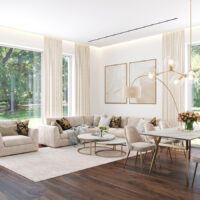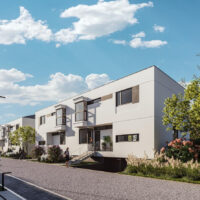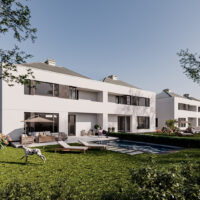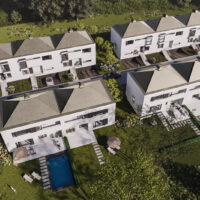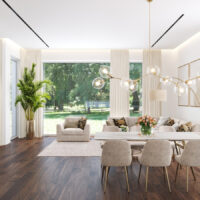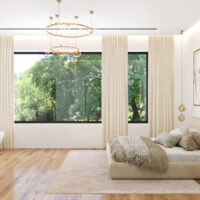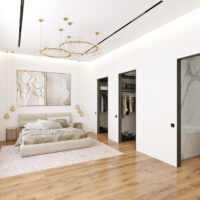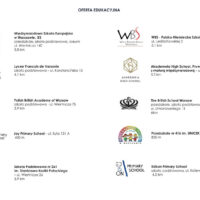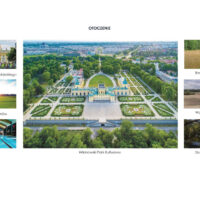 House, 228 m2
Location
Basic information
Building
Additional information
Idealny metraż domów, przyjazna okolica
We are pleased to present 10 designer houses with gardens, spacious double garages. The advantage of the investment is architectural consistency, ecological solutions and intelligent installations. Completion of construction works is planned for August 2023, transfer of ownership at the end of 2023.
PRICE
The given price is for a house in a developer's standard.
It is possible to buy and choose from three offered finishing packages:
– smart package
– modern life package
– high life package
Each of the packages has its own individual price and design.
The developer cooperates with the Deer Design architectural studio, which offers services and materials of the highest quality.
LAYOUT
Each house (230 m2) has two full residential floors, a garden and a double garage (over 40 m2) and a hobby room (over 25 m2). The height of the rooms (3.2 m) and open spaces give an exclusive character. On the ground floor there are: a study, a bathroom, a kitchen with a pantry and a living room with an elegant dining room (over 45 m2) ideal for Sunday family dinners. On the first floor, 3 bedrooms, 2 dressing rooms and 2 bathrooms provide private space for the household. An intimate space has been created for you. spacious master bedroom with wardrobe and bathroom (approx. 30 m2 in total).
STANDARD
Development or turnkey condition. When choosing an investment, you don't have to worry about the finish.
– Solar panels and LED lighting
– Water retention and rain gardens
– Sound insulation and premium thermal insulation
– Triple-pane windows, seven-chamber frames
– Smart Home
– Greenery (biologically active surfaces)
– Birdhouses and houses for beneficial insects
– Migration crossings for small animals
Bespoke – on special request, we will arrange and adapt the functional layout to your needs.
LOCATION
The proximity of the Wilanów Cultural Park, the Morysin Nature Reserve with the Zawadowski pond. Good schools nearby: International European School, IES, Lycee Francais de Varsovie, Polish British Academy of Warsaw, Joy Primary School, WBS – Polish-German School, Akademeia High School – Private high school with international baccalaureate, The British School Warsaw and kindergarten 416 them. UNICEF, Edison Primary School, Primary School No. 261 Stanisław Kostka Potocki.
There is a large selection of restaurants, cafes, entertainment and sports venues in the area. Nearby you will also find: King Jan III Sobieski's Palace, Royal Golf Wilanów, Sinnet Club (sports club), Rzeka Wilanówka, Wał Zawadowski.
ADDITIONAL INFORMATION
Concierge – We can offer your family a range of services: cleaning, laundry, ironing, care and maintenance of greenery.