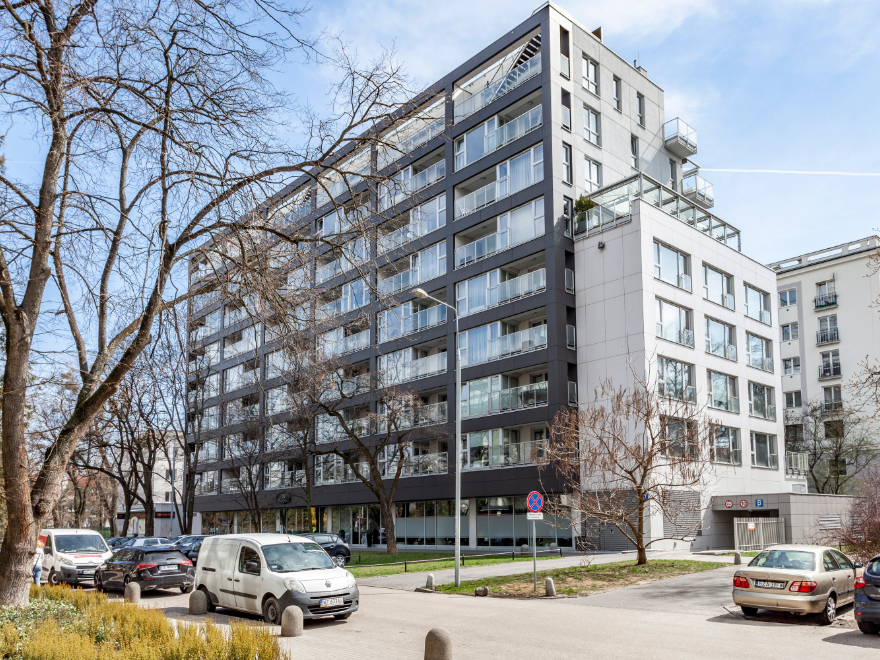 NARUSZEWICZA RESIDENCE – ELEGANCE AND CHARACTER IN AN OLD MOKOTÓW
Location: Warsaw – Mokotów, ul. Naruszewicza
Investor: Platinum Properties Group S.A.
Architecture: Szaroszyk & Rycerski Architekci
Realization: 2012
Real estate market in Warsaw eagerly awaited for the final outcome of this prestigious investment located in one of the most valued parts of Mokotów. Created with the cooperation of Platinum Properties Group S.A., construction company Karmar and the architectural office Szaroszyk & Rycerski. Lobby and the rest of the shared space was designed by Maciej Zień, undeniably one of the most valued and worldwide award winning polish fashion designers. Put into service by the end of 2012, 9 floors, 7000 m2 investment was undeniably one of the most sought after spots on Warsaws real estate map.
A list of high-class amenities and benefits available for the residents is incredibly long. Elegant terraces are located on the 5th floors on both sides of the main block. On the roof of the building there's a winter garden whereas at the back of the investment the residents can exclusively enjoy a stylish patio surrounded by greenery. However those are not the only places where they can take a breath from the turmoil of the city. Within a walking distance from the apartment building you can find green areas like Mokotów gardens, Arkadia Park, 2nd Jordan Garden and Gen. Gustaw Orlicz-Dreszer Park. Luxurious apartments of the residence are incredibly popular not only among families with children but also young career-focused people due to its strategical location which is undeniably one of its greatest advantages. A drive to downtown takes barely 15 minutes thanks to Niepodległości Avenue running nearby or a few minutes more with a public transport thanks to a subway station Wierzbno located just in a step away from the entrance to the property. There are countless schools, cafes and restaurants in the area along with many important companies like Polish Television, Polish Radio, BTC Office Center or Asterus.
We don't think anyone needs to be convinced about the uniqueness of the Naruszewicz Residence. Contact our real estate advisors in order to get more informations about the available apartments for sale, for rent or the investment itself.