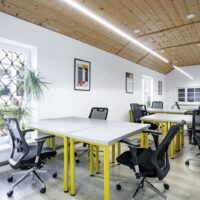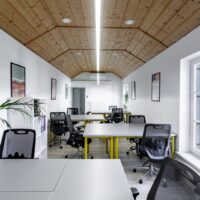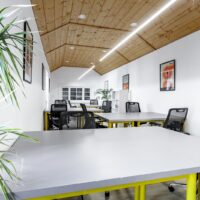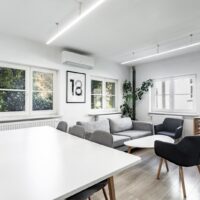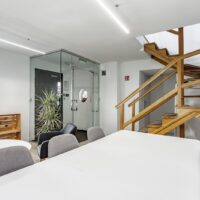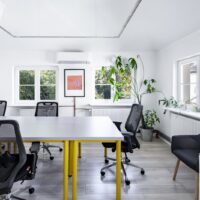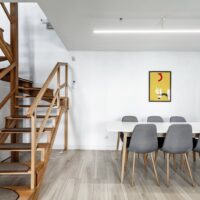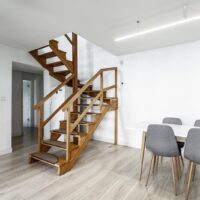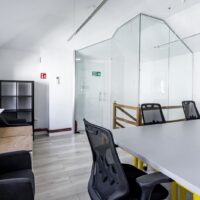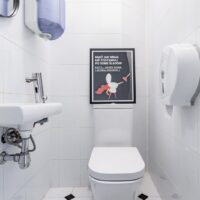 Commercial Space, 100 m2
Location
Basic information
Building
Additional information
Piękna willa wyposażana na cele biurowe
A villa with a decorative facade of a high standard of rooms fully equipped for office purposes – on two floors in the center of Warsaw.
DESCRIPTION
In a beautiful villa with an area of 100 m2 with a decorative facade, in a stylish building, we present rooms for rent adapted to the needs of small entrepreneurs for office purposes with an internal garden.
LAYOUT
The offered office has an area of 100 m² and consists of three rooms equipped with office furniture, bathrooms, toilets and a fully equipped kitchenette. – The floors are finished with panels and tiles. – The office is equipped with air conditioning and access control. – Service charges: included in the rental price.
STANDARD
The high standard of rooms on two floors creates new perspectives for small business, offering functional and comfortable work space. The property is surrounded by a beautiful garden, and its grounds adjoin the Promenade Park, also known as the Sea Eye. It gives the opportunity to work and relax in exceptionally favorable conditions and in which you can take a break from work, and the good location also guarantees convenient connection with the rest of the city.
LOCATION
The place was created for people who work in professions related to modern technology, which fits in an interesting way with the historic interior. It is an ideal place to work for people looking for modernity combined with tradition in the center of Warsaw, but away from the hustle and bustle of the city center. Mokotów is perceived primarily through the prism of greenery and parks, among which a special place is occupied by Pole Mokotowskie, Królikarnia, Morskie Oko and Łazienki Królewskie located at the junction of Śródmieście and Mokotów. It is an elegant district of villas, tenement houses and small streets. Mokotów combines history with modernity, which gives it a unique charm. Thanks to the low buildings and space, there is an atmosphere of peace and quiet here. It is also a place for cultural and social meetings. Mokotów, among the surveyed districts, evokes the most positive feelings. Perfect location in terms of communication. It allows you to easily and quickly reach the center
ADDITIONAL INFORMATION
Total cost PLN 10,000 + VAT including service charges The service charges include the price for utilities such as: hot and cold water, central heating, waste disposal, electricity, Internet – two optical fiber lines. Tenants have unlimited access to a coffee corner. The service charges also include the price for: • utilities such as: hot and cold water, central heating, electricity, Internet (two optical fiber lines). • unlimited access to conference rooms; • cleaning 3-5 times a month; • coffee, tea, etc .; •printer; Monthly deposit