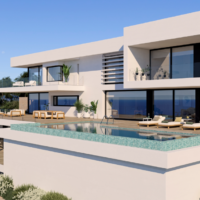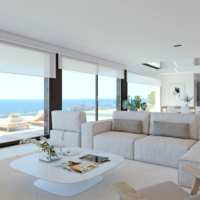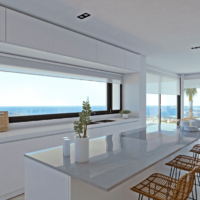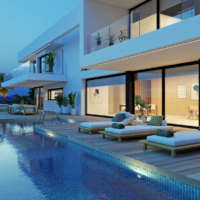 Cumbre del Sol
/ 37/464/OI
Investment, 2000 m2
Location
Country
Hiszpania
Cumbre del Sol
Basic information
Villa Marblau is an exclusive property with independent and spacious spaces where hosting guests will be pure pleasure. Designed on a plot of 2,000 square meters, it has 5 bedrooms and 9 bathrooms, with the possibility of extending one more bedroom.
Villa Marblau with unique features, all rooms are spacious and bright and have their own bathroom. The master bedroom is equipped with a dressing room, a large terrace and a bathroom with a bathtub where you can relax watching the sea. The living area is the perfect place for guests, and the spacious living room includes a dining area with enough capacity for a large family. This area is double-height and the slats in the upper window add glamor and grandeur.
In the kitchen, where there is another dining room, thanks to the glass walls, we can admire amazing views that provide pleasant warmth. Both the dining room and the kitchen give access to the impressive terrace with solarium and relaxation area, which is complemented by a large infinity pool with jacuzzi.
The lower floor surprises with additional space that can be attributed to an apartment with a bedroom, bathroom, dining room, terrace and veranda. Villa Marblau is complemented by a covered parking lot for 3 cars, an elevator, which ensures great comfort. In addition to additional spaces where you can design a place to play or study, offices and even an extra room.
If you need unique places for all your family members, you have found your new home at Residential Resort Cumbre del Sol.